8/16/12
Corruption At Its Worst
The moral to the story: the House generally wins in some way, shape, or form. The people of the MF house win by being able to walk away scot-free. Make sure the core of your net worth is not filchable through these non federally insured segregated accounts!! Most of these accounts were used simply as hedges within the farming industry related to the original intent of futures markets dating back hundreds of years. It was the House (MF) that went on a gambling binge and took everyone down with it. We now know the Chicago Merc is of no use in this situation. What will the SIPC do? The loss of a billion dollars is a gain for the party on the other side of the bad trades.
Gold
The end of the world again confronts gold holders – at least in the estimation of the mainstream media in reaction to WGC data that shows a 7% decline in world gold demand during the 2nd quarter from the year before. Demand slackened in China and India, but increased due to safe haven demand in Europe.
The lithium in the report comes from solid demand from world central banks where demand more than doubled year over year. Put two and two together for yourself, dear reader. I would say that if the controllers of the financial game (central banks) are buyers of gold as a means of distancing themselves for being overweight dollars, the average person should also be looking at gold as a place to store wealth.
However, it appears that American buyers have not been heeding the message. U.S. bar and coin demand fell 27% year-on-year to 14.4 tons, the WGC said. At this time there isn't further elaboration on that steep drop in demand.
With gold headed for Tier One asset banking status, I still see a positive gold outlook.
Drought
I touched on the drought situation yesterday. While the near term temperature forecast in the Midwest has moderated to an outlook of reasonable temperatures, the outlook for rain is still looking hobbled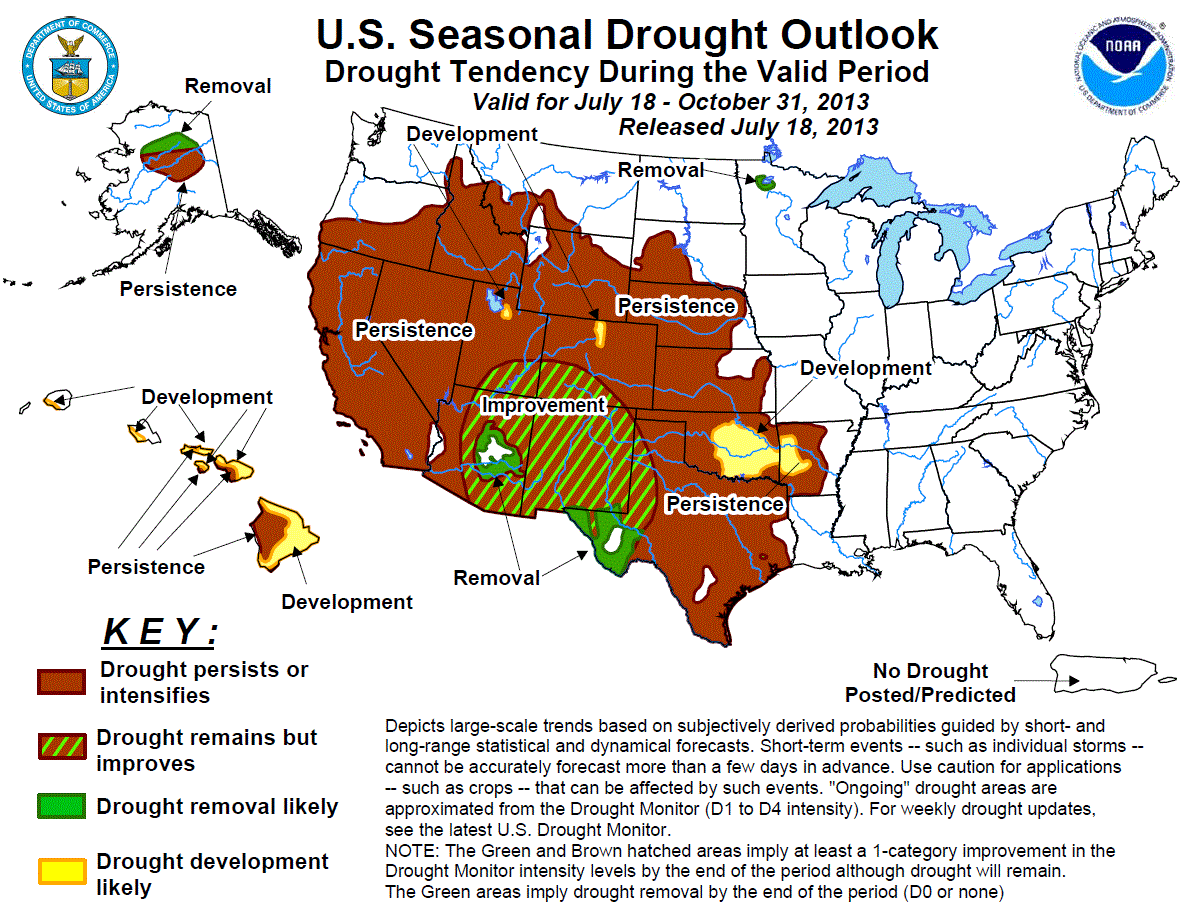 As a result, September corn is holding at close to the $8/bushel level. The mainstream media is hyping the drought with stories like this:
Corn price increase to affect pumps, pantries: http://www.msnbc.msn.com/id/48684467/ns/local_news-indianapolis_in/t/corn-price-increase-affect-pumps-pantries/#.UC0X7fnqzjI.twitter via @msnbc
However, other world corn growers, including Brazil are likely to fill enough of a void in U.S. crop yields to stave off a worldwide crop disaster scenario at least through this fall. In terms of price, much will depend upon what the USDA will announce in the coming weeks. The risk is weighted toward the USDA having underestimated U.S. crop damage. Imho prices still have a good chance of resuming higher.
A fresh Nadir for FaceBook
This space warned you about this IPO last spring. Bagholder city. Facebook shares fall to a record low as the post-IPO lockup on about 271 million shares expire. The stock is down nearly 6% at $19.89. More than 1.3 billion more shares to be unlocked before the end of the year. --

http://on.mktw.net/NHDRBI
I won't say that I have seen it and reported it all on Wall Street, but I've seen enough over 25 years to know a bad deal when it comes along. Unfortunately in this day and age, much of what is coming to market is poison and doesn't take a degree in rocket science, or special powers of discernment to determine a loser. It's as if the street will bring anything to market without even the pretense of trying to gussy up an offering.